Joss
District Eight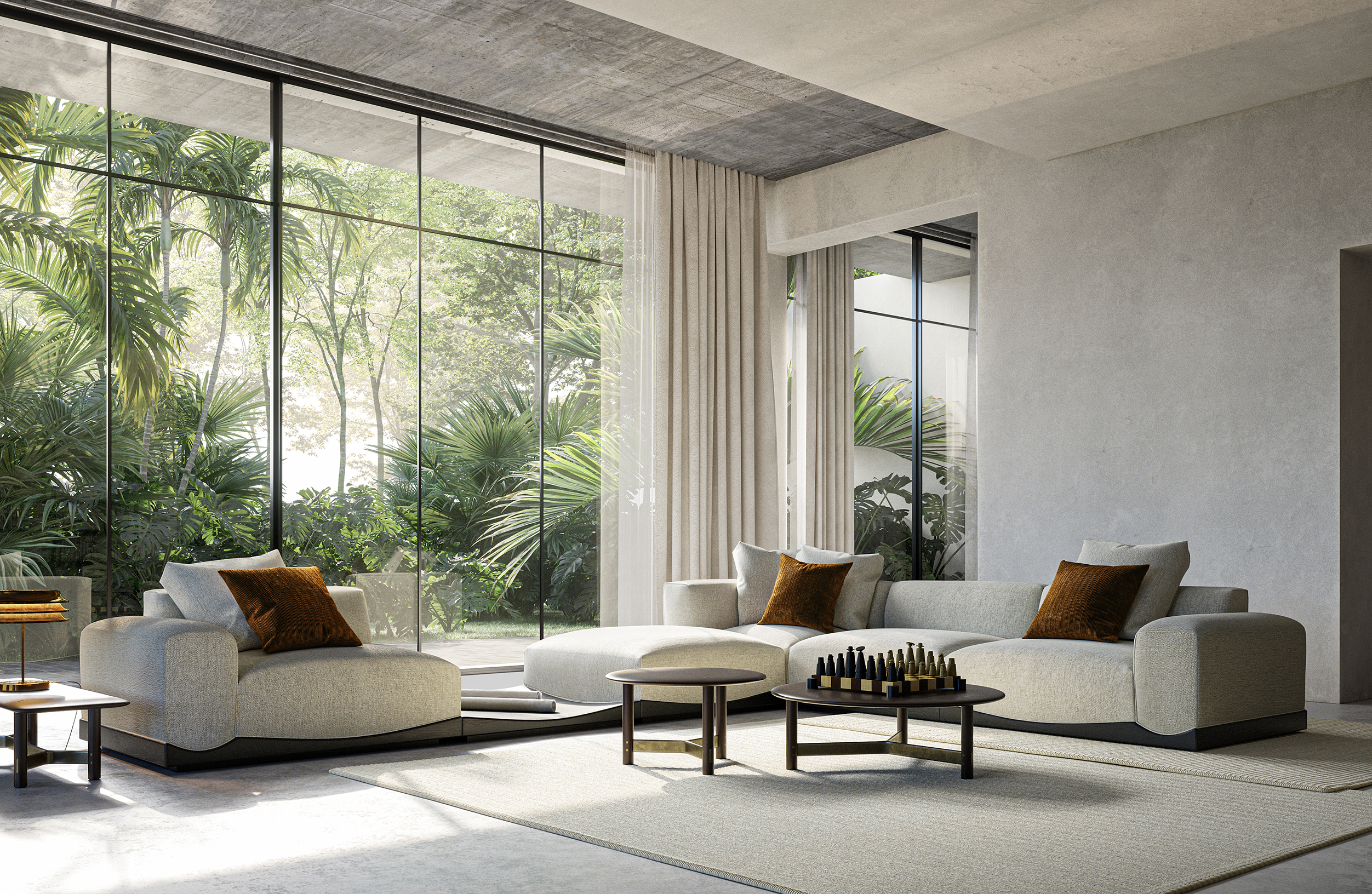 Joss is, above all, a manifesto project of the high-quality craftsmanship acquired over the years by District Eight, which today integrates almost all the furniture trades and crafts for total control of the production process.
Joss is a clear illustration of the fact that, in design, the quest for simplicity is the result of a complex journey. Creating a monolithic sofa characterized by exceptional seating comfort and coverings that emphasize the roundness of the volumes while maintaining a clear definition of the edges through particular attention to the seams is challenging.
Joss solid wood bases, whose natural tones are the result of an ingenious thermal process developed by District Eight, are characterized by an upper curvature, a declared reference to ancestral elements of Southeast Asian architecture.
The complementarity of the generous foam volumes with the wooden bases, in perfect continuity, not only gives this resolutely contemporary collection a strong identity but also demonstrates the precision and attention to detail of District Eight's production.
If Joss conceals details that attract the eye and the hand without ostentation, it is harmony and serenity that prevail.
Year > 2022  Description > Monolithic modular sofa collection  Elements > sectional elements (4 pcs), chaise longue (3 pcs), ottoman (1 pcs), coffee table (1pcs)  Materials > Base: solid wood; padding: polyurethane foam; cover: leather and fabric  Project Assistants > Sarah Richiuso, Luca Spagnolo
ID: 6401

---

$cat: Sofas

---

$cli: District Eight

---

---

$res: array(32) {
  [0]=>
  object(WP_Post)#3526 (24) {
    ["ID"]=>
    int(6453)
    ["post_author"]=>
    string(1) "1"
    ["post_date"]=>
    string(19) "2022-09-18 18:30:58"
    ["post_date_gmt"]=>
    string(19) "2022-09-18 16:30:58"
    ["post_content"]=>
    string(2268) "

The challenge of the STILT collection for District Eight comes first of all from the particular context: to design for an atypical Vietnamese company a collection of furniture that draws its inspiration from the culture of Vietnam, highlighting its tradition of craftsmanship while maintaining an ongoing dialogue with the manufacturing culture of contemporary European furniture.
The generous cushions, which offer extreme comfort thanks to a complex internal construction, are supported by a thin curved wooden shell, upholstered in fabric or leather, which seems weightless. The bearing structure is clearly distinct and consists of solid wooden logs with important sections like traditional Asian wooden constructions. However, the metal completes the construction, playing an essential role in stabilizing the structure while lightening the silhouette. As much as the wood is generous and round, as much the metal is its exact opposite. The logs with perfect verticality are indeed connected to each other thanks to a branched metal structure through recessed joints of apparent simplicity and immediate reading but made with cutlery precision and a mechanical design engineered to the smallest details.
STILT is the result of a quest for harmony in contrast.

Year > 2022  Description > Bed collection  Elements > Beds (2 pcs)  Materials > Frame: solid oak with nickel, brass or copper details; base and headboard: polyurethane, fiberfill covered with fabric or leather  Project Assistants > Luca Spagnolo


"
    ["post_title"]=>
    string(9) "Stilt Bed"
    ["post_excerpt"]=>
    string(0) ""
    ["post_status"]=>
    string(7) "publish"
    ["comment_status"]=>
    string(6) "closed"
    ["ping_status"]=>
    string(4) "open"
    ["post_password"]=>
    string(0) ""
    ["post_name"]=>
    string(9) "stilt-bed"
    ["to_ping"]=>
    string(0) ""
    ["pinged"]=>
    string(0) ""
    ["post_modified"]=>
    string(19) "2022-09-21 17:57:29"
    ["post_modified_gmt"]=>
    string(19) "2022-09-21 15:57:29"
    ["post_content_filtered"]=>
    string(0) ""
    ["post_parent"]=>
    int(0)
    ["guid"]=>
    string(30) "http://toan-nguyen.com/?p=6453"
    ["menu_order"]=>
    int(0)
    ["post_type"]=>
    string(4) "post"
    ["post_mime_type"]=>
    string(0) ""
    ["comment_count"]=>
    string(1) "0"
    ["filter"]=>
    string(3) "raw"
  }
  [1]=>
  object(WP_Post)#3536 (24) {
    ["ID"]=>
    int(50)
    ["post_author"]=>
    string(1) "1"
    ["post_date"]=>
    string(19) "2014-01-04 09:00:18"
    ["post_date_gmt"]=>
    string(19) "2014-01-04 08:00:18"
    ["post_content"]=>
    string(1430) "


Year > 2014  Description > Modular sofa collection with extra-large cushions and bentwood shell covered in leather  Elements > 3 seater sofa, 4 seater sofa, sectional elements (4 pcs), high / medium outer arms (2 pcs), outer low shelf, ottoman, inner shelf for ottoman, cushion  Materials > Frame: wood, polyurethane, fiberfill; seat cushions: feathers, polyurethane; back cushions: down feathers; cover: fabric or leather; feet: wengé stained wood  Project Assistant > Carlo Casagrande



"
    ["post_title"]=>
    string(7) "Hampton"
    ["post_excerpt"]=>
    string(0) ""
    ["post_status"]=>
    string(7) "publish"
    ["comment_status"]=>
    string(6) "closed"
    ["ping_status"]=>
    string(4) "open"
    ["post_password"]=>
    string(0) ""
    ["post_name"]=>
    string(7) "hampton"
    ["to_ping"]=>
    string(0) ""
    ["pinged"]=>
    string(0) ""
    ["post_modified"]=>
    string(19) "2018-02-09 10:51:59"
    ["post_modified_gmt"]=>
    string(19) "2018-02-09 09:51:59"
    ["post_content_filtered"]=>
    string(0) ""
    ["post_parent"]=>
    int(0)
    ["guid"]=>
    string(28) "http://toan-nguyen.com/?p=50"
    ["menu_order"]=>
    int(37)
    ["post_type"]=>
    string(4) "post"
    ["post_mime_type"]=>
    string(0) ""
    ["comment_count"]=>
    string(1) "0"
    ["filter"]=>
    string(3) "raw"
  }
  [2]=>
  object(WP_Post)#3557 (24) {
    ["ID"]=>
    int(1683)
    ["post_author"]=>
    string(1) "1"
    ["post_date"]=>
    string(19) "2012-01-11 18:02:55"
    ["post_date_gmt"]=>
    string(19) "2012-01-11 17:02:55"
    ["post_content"]=>
    string(2713) "

Metropolitan consists of a supporting frame in dark chromed metal plate that, combined with the stretched leather, also supports the backseat and armrests cushions, giving the sofa a strong aesthetic characterization and an evident added value. The dryness and minimal character of the metal frame are balanced by the absolute softness of the rectangular cushions that naturally adapt to create great comfort. Details communicate with the sofa, thanks to the material references: the metal of the buckles speaks with the frame and the leather insert in the visible seams of the cushions resumes the leather of the supports, thus conferring a high level of sophistication to the collection.

Year > 2012  Description > Modular sofa collection based on the combination of metallic frames and tensioned leather supports  Elements > Armchair, 2 seater sofa, 3 seater sofa, sectional elements (8 pcs), ottoman, rectangular ottoman, dormeuse, roll  Materials >  Frame: gun-metal grey steel; cover: leather or fabric; belts: leather; buckles: metal in gun-metal grey finish; cushions: mixed feather, polyurethane  Project Assistants > Carlo Casagrande, Maurizio Valle


"
    ["post_title"]=>
    string(12) "Metropolitan"
    ["post_excerpt"]=>
    string(0) ""
    ["post_status"]=>
    string(7) "publish"
    ["comment_status"]=>
    string(6) "closed"
    ["ping_status"]=>
    string(4) "open"
    ["post_password"]=>
    string(0) ""
    ["post_name"]=>
    string(14) "metropolitan-2"
    ["to_ping"]=>
    string(0) ""
    ["pinged"]=>
    string(0) ""
    ["post_modified"]=>
    string(19) "2019-06-12 17:28:01"
    ["post_modified_gmt"]=>
    string(19) "2019-06-12 15:28:01"
    ["post_content_filtered"]=>
    string(0) ""
    ["post_parent"]=>
    int(0)
    ["guid"]=>
    string(30) "http://toan-nguyen.com/?p=1683"
    ["menu_order"]=>
    int(0)
    ["post_type"]=>
    string(4) "post"
    ["post_mime_type"]=>
    string(0) ""
    ["comment_count"]=>
    string(1) "0"
    ["filter"]=>
    string(3) "raw"
  }
  [3]=>
  object(WP_Post)#3556 (24) {
    ["ID"]=>
    int(38)
    ["post_author"]=>
    string(1) "1"
    ["post_date"]=>
    string(19) "2014-01-08 09:00:01"
    ["post_date_gmt"]=>
    string(19) "2014-01-08 08:00:01"
    ["post_content"]=>
    string(1565) "


Year > 2014  Description > Modular sofa system composed by 214 pieces  Elements > Sofas S (12 pcs), Sofas M (12 pcs), Sofas XL (10 pcs), Sectional S elements (69 pcs), Sectional M elements (69 pcs), Sectional XL elements (36 pcs), Footstools S (2 pcs), Footstools M (2 pcs), Footstools XL (2 pcs)  Materials > Frame: solid wood, plywood, particle board, polyurethane; cover: fabric or leather; cushions: goose feathers; legs: steel with black chrome plated finish  Project Assistant > Carlo Casagrande


"
    ["post_title"]=>
    string(6) "Burton"
    ["post_excerpt"]=>
    string(0) ""
    ["post_status"]=>
    string(7) "publish"
    ["comment_status"]=>
    string(6) "closed"
    ["ping_status"]=>
    string(4) "open"
    ["post_password"]=>
    string(0) ""
    ["post_name"]=>
    string(6) "burton"
    ["to_ping"]=>
    string(0) ""
    ["pinged"]=>
    string(0) ""
    ["post_modified"]=>
    string(19) "2018-02-09 09:58:05"
    ["post_modified_gmt"]=>
    string(19) "2018-02-09 08:58:05"
    ["post_content_filtered"]=>
    string(0) ""
    ["post_parent"]=>
    int(0)
    ["guid"]=>
    string(28) "http://toan-nguyen.com/?p=38"
    ["menu_order"]=>
    int(42)
    ["post_type"]=>
    string(4) "post"
    ["post_mime_type"]=>
    string(0) ""
    ["comment_count"]=>
    string(1) "0"
    ["filter"]=>
    string(3) "raw"
  }
  [4]=>
  object(WP_Post)#3555 (24) {
    ["ID"]=>
    int(5919)
    ["post_author"]=>
    string(1) "1"
    ["post_date"]=>
    string(19) "2020-05-14 10:11:12"
    ["post_date_gmt"]=>
    string(19) "2020-05-14 08:11:12"
    ["post_content"]=>
    string(4033) "

The challenge of the STILT collection for District Eight comes first of all from the particular context: to design for an atypical Vietnamese company a collection of furniture that draws its inspiration from the culture of Vietnam, highlighting its tradition of craftsmanship while maintaining an ongoing dialogue with the manufacturing culture of contemporary European furniture.
The generous cushions, which offer extreme comfort thanks to a complex internal construction, are supported by a thin curved wooden shell, upholstered in fabric or leather, which seems weightless. The bearing structure is clearly distinct and consists of solid wooden logs with important sections like traditional Asian wooden constructions. However, the metal completes the construction, playing an essential role in stabilizing the structure while lightening the silhouette. As much as the wood is generous and round, as much the metal is its exact opposite. The logs with perfect verticality are indeed connected to each other thanks to a branched metal structure through recessed joints of apparent simplicity and immediate reading but made with cutlery precision and a mechanical design engineered to the smallest details.
STILT is the result of a quest for harmony in contrast.

Year > 2020  Description > Collection of modular sofa and tables  Elements > Armchair, two-seater sofa, three seater sofa, sectional elements (9 pcs), coffee tables (5 pcs), side table  Materials > Sofa frame: wood, polyurethane, fiberfill covered with fabric or leather; sofa cushions: polyurethane, fiberfill; sofa legs: raw, smoked or ebonized solid oak with nickel, brass or copper details; coffee table top: raw, smoked or ebonized solid oak; coffee table legs: raw, smoked or ebonized solid oak with nickel, brass or copper details  Awards > Archiproducts Design Awards 2020, furniture category  Project Assistants > Luca Spagnolo, Alberto Pasquale

"
    ["post_title"]=>
    string(5) "Stilt"
    ["post_excerpt"]=>
    string(0) ""
    ["post_status"]=>
    string(7) "publish"
    ["comment_status"]=>
    string(6) "closed"
    ["ping_status"]=>
    string(4) "open"
    ["post_password"]=>
    string(0) ""
    ["post_name"]=>
    string(5) "stilt"
    ["to_ping"]=>
    string(0) ""
    ["pinged"]=>
    string(0) ""
    ["post_modified"]=>
    string(19) "2020-11-26 10:58:38"
    ["post_modified_gmt"]=>
    string(19) "2020-11-26 09:58:38"
    ["post_content_filtered"]=>
    string(0) ""
    ["post_parent"]=>
    int(0)
    ["guid"]=>
    string(30) "http://toan-nguyen.com/?p=5919"
    ["menu_order"]=>
    int(0)
    ["post_type"]=>
    string(4) "post"
    ["post_mime_type"]=>
    string(0) ""
    ["comment_count"]=>
    string(1) "0"
    ["filter"]=>
    string(3) "raw"
  }
  [5]=>
  object(WP_Post)#3554 (24) {
    ["ID"]=>
    int(5999)
    ["post_author"]=>
    string(1) "1"
    ["post_date"]=>
    string(19) "2020-12-14 12:49:38"
    ["post_date_gmt"]=>
    string(19) "2020-12-14 11:49:38"
    ["post_content"]=>
    string(2908) "

H Collection redefines the codes of American metal outdoor furniture while drawing on its roots.

The rigor and essentiality of the aluminum supporting structure is in contrast with the softness and generosity of the oversized weaving and the lounge-comfort cushions. From these seeming contradictions, H aims at timeless continuity and harmony in the near and global environment.

H is a resolutely contemporary collection that highlights the manufacturing quality of a responsible "industrial craftsmanship". The craft know-how is combined with the most advanced technologies to meet the requirements of performance and resilience in the face of harsh climate conditions.

 Year > 2020  Description > Outdoor modular sofa collection, armchair, dining chair and coffee tables  Elements > Lounge chair, three-seater sofa, loveseat sofa, dining armchair, coffee tables (2pcs)  Materials > Frame: die-casted aluminium; 3-inch diameter rope; Cushions: polyurethane foam  Awards > ICFA Excellence award 2021, ICFA Best of Show Award 2021  Project Assistants > Luca Spagnolo, Sarah Richiuso

 "
    ["post_title"]=>
    string(1) "H"
    ["post_excerpt"]=>
    string(0) ""
    ["post_status"]=>
    string(7) "publish"
    ["comment_status"]=>
    string(6) "closed"
    ["ping_status"]=>
    string(4) "open"
    ["post_password"]=>
    string(0) ""
    ["post_name"]=>
    string(1) "h"
    ["to_ping"]=>
    string(0) ""
    ["pinged"]=>
    string(0) ""
    ["post_modified"]=>
    string(19) "2021-09-29 16:10:46"
    ["post_modified_gmt"]=>
    string(19) "2021-09-29 14:10:46"
    ["post_content_filtered"]=>
    string(0) ""
    ["post_parent"]=>
    int(0)
    ["guid"]=>
    string(30) "http://toan-nguyen.com/?p=5999"
    ["menu_order"]=>
    int(0)
    ["post_type"]=>
    string(4) "post"
    ["post_mime_type"]=>
    string(0) ""
    ["comment_count"]=>
    string(1) "0"
    ["filter"]=>
    string(3) "raw"
  }
  [6]=>
  object(WP_Post)#3551 (24) {
    ["ID"]=>
    int(1581)
    ["post_author"]=>
    string(1) "1"
    ["post_date"]=>
    string(19) "2013-01-02 16:54:56"
    ["post_date_gmt"]=>
    string(19) "2013-01-02 15:54:56"
    ["post_content"]=>
    string(1472) "


Year > 2013  Description > Outdoor modular sofa collection with perforated bent metal sheet frame  Elements > Armchair, 2 seater sofa, 3 seater sofa, daybed (2 pcs)  Materials >  Frame: powder coated stainless steel; seat: polyurethane draining foam; cushion: polyester, mixed paineira fiber  Project Assistants > Carlo Casagrande, Maurizio Valle

"
    ["post_title"]=>
    string(4) "Pois"
    ["post_excerpt"]=>
    string(0) ""
    ["post_status"]=>
    string(7) "publish"
    ["comment_status"]=>
    string(6) "closed"
    ["ping_status"]=>
    string(4) "open"
    ["post_password"]=>
    string(0) ""
    ["post_name"]=>
    string(4) "pois"
    ["to_ping"]=>
    string(0) ""
    ["pinged"]=>
    string(0) ""
    ["post_modified"]=>
    string(19) "2018-02-01 09:17:36"
    ["post_modified_gmt"]=>
    string(19) "2018-02-01 08:17:36"
    ["post_content_filtered"]=>
    string(0) ""
    ["post_parent"]=>
    int(0)
    ["guid"]=>
    string(30) "http://toan-nguyen.com/?p=1581"
    ["menu_order"]=>
    int(0)
    ["post_type"]=>
    string(4) "post"
    ["post_mime_type"]=>
    string(0) ""
    ["comment_count"]=>
    string(1) "0"
    ["filter"]=>
    string(3) "raw"
  }
  [7]=>
  object(WP_Post)#3522 (24) {
    ["ID"]=>
    int(5270)
    ["post_author"]=>
    string(1) "1"
    ["post_date"]=>
    string(19) "2018-03-20 10:21:22"
    ["post_date_gmt"]=>
    string(19) "2018-03-20 09:21:22"
    ["post_content"]=>
    string(2143) "




As the outline of each element of the Positano collection is rigorous, as its surfaces vibrate in a play of overlaps and shadows, highlighting the materiality of the teak wood, its tactility and the quality and precision of the craftsmanship. Inside the wooden shell, an alcove made of soft cushions is dedicated to the comfort, encouraging pleasant socializing moments or simply relaxation.




Year > 2018  Description > Outdoor collection of lounge chair and sofas  Elements > Lounge Chair, two seater sofa, three seater sofa  Materials > Frame: handcrafted weathered teak; cushions: solution-dyed acrylic fabric, polyester fiberfill  Project Assistants > Alberto Pasquale







Courtesy of RH

"
    ["post_title"]=>
    string(8) "Positano"
    ["post_excerpt"]=>
    string(0) ""
    ["post_status"]=>
    string(7) "publish"
    ["comment_status"]=>
    string(6) "closed"
    ["ping_status"]=>
    string(4) "open"
    ["post_password"]=>
    string(0) ""
    ["post_name"]=>
    string(8) "positano"
    ["to_ping"]=>
    string(0) ""
    ["pinged"]=>
    string(0) ""
    ["post_modified"]=>
    string(19) "2018-10-05 13:05:45"
    ["post_modified_gmt"]=>
    string(19) "2018-10-05 11:05:45"
    ["post_content_filtered"]=>
    string(0) ""
    ["post_parent"]=>
    int(0)
    ["guid"]=>
    string(30) "http://toan-nguyen.com/?p=5270"
    ["menu_order"]=>
    int(0)
    ["post_type"]=>
    string(4) "post"
    ["post_mime_type"]=>
    string(0) ""
    ["comment_count"]=>
    string(1) "0"
    ["filter"]=>
    string(3) "raw"
  }
  [8]=>
  object(WP_Post)#3521 (24) {
    ["ID"]=>
    int(6035)
    ["post_author"]=>
    string(1) "1"
    ["post_date"]=>
    string(19) "2021-04-01 15:35:15"
    ["post_date_gmt"]=>
    string(19) "2021-04-01 13:35:15"
    ["post_content"]=>
    string(3362) "





YOKO revolves around a collection of "platform" sofas, as modular as they are reconfigurable, which best express relax in the outdoor context by mixing genres, from the reference to rigorous German design to the essence of the Zen spirit, all seasoned with a Franco-Italian touch.




 Year > 2021  Description > Outdoor modular sofa collection, armchair, dining chair, dining table and occasional tables  Elements > Modular sofa, armchair, dining chair, dining table, occasional tables (3 pcs)  Materials > Frame: powder-coated aluminium; cushions: waterproof polyurethane, table tops: teak, ceramic Calacatta Smooth, ceramic Emperador Extra or ceramic Naturali Pietre  Project Assistants > Sarah Richiuso, Luca Spagnolo




"
    ["post_title"]=>
    string(4) "YOKO"
    ["post_excerpt"]=>
    string(0) ""
    ["post_status"]=>
    string(7) "publish"
    ["comment_status"]=>
    string(6) "closed"
    ["ping_status"]=>
    string(4) "open"
    ["post_password"]=>
    string(0) ""
    ["post_name"]=>
    string(4) "yoko"
    ["to_ping"]=>
    string(0) ""
    ["pinged"]=>
    string(0) ""
    ["post_modified"]=>
    string(19) "2022-05-09 13:05:10"
    ["post_modified_gmt"]=>
    string(19) "2022-05-09 11:05:10"
    ["post_content_filtered"]=>
    string(0) ""
    ["post_parent"]=>
    int(0)
    ["guid"]=>
    string(30) "http://toan-nguyen.com/?p=6035"
    ["menu_order"]=>
    int(0)
    ["post_type"]=>
    string(4) "post"
    ["post_mime_type"]=>
    string(0) ""
    ["comment_count"]=>
    string(1) "0"
    ["filter"]=>
    string(3) "raw"
  }
  [9]=>
  object(WP_Post)#3520 (24) {
    ["ID"]=>
    int(5852)
    ["post_author"]=>
    string(1) "1"
    ["post_date"]=>
    string(19) "2020-01-13 10:26:17"
    ["post_date_gmt"]=>
    string(19) "2020-01-13 09:26:17"
    ["post_content"]=>
    string(1275) "

Year > 2020  Description > Outdoor collection of modular sofa with side shelf  Elements > Sectional elements (2 pcs)  Materials > Frame: die-casted electrostatic powder-coated aluminum; cover: woven Dedon fiber; cushions: polypropylene, fabric; shelf top: HPL  Project Assistants >  Lorenzo Limatola, Sarah Richiuso




Photo Credits: Dedon

"
    ["post_title"]=>
    string(2) "Mu"
    ["post_excerpt"]=>
    string(0) ""
    ["post_status"]=>
    string(7) "publish"
    ["comment_status"]=>
    string(6) "closed"
    ["ping_status"]=>
    string(4) "open"
    ["post_password"]=>
    string(0) ""
    ["post_name"]=>
    string(12) "mu-extension"
    ["to_ping"]=>
    string(0) ""
    ["pinged"]=>
    string(0) ""
    ["post_modified"]=>
    string(19) "2020-05-14 10:13:17"
    ["post_modified_gmt"]=>
    string(19) "2020-05-14 08:13:17"
    ["post_content_filtered"]=>
    string(0) ""
    ["post_parent"]=>
    int(0)
    ["guid"]=>
    string(30) "http://toan-nguyen.com/?p=5852"
    ["menu_order"]=>
    int(0)
    ["post_type"]=>
    string(4) "post"
    ["post_mime_type"]=>
    string(0) ""
    ["comment_count"]=>
    string(1) "0"
    ["filter"]=>
    string(3) "raw"
  }
  [10]=>
  object(WP_Post)#3519 (24) {
    ["ID"]=>
    int(6058)
    ["post_author"]=>
    string(1) "1"
    ["post_date"]=>
    string(19) "2021-06-08 17:14:17"
    ["post_date_gmt"]=>
    string(19) "2021-06-08 15:14:17"
    ["post_content"]=>
    string(2081) "

Year > 2021  Description > Modular office lounge system with built-in tables  Elements > Sectional elements (5 pcs), built-in tables (4 pcs)  Materials > Base: powder-coated steel; cushions: wood, polyurethane, feathers; cover: fabric or leather; table top: laminate or  veneer  Awards >  Interior Design Magazine's HiP Awards 2021 Honoree, Chicago Athenaeum's Green Good Design Award 2022  Project Assistants > Sarah Richiuso, Luca Spagnolo

"
    ["post_title"]=>
    string(7) "VETTORE"
    ["post_excerpt"]=>
    string(0) ""
    ["post_status"]=>
    string(7) "publish"
    ["comment_status"]=>
    string(6) "closed"
    ["ping_status"]=>
    string(4) "open"
    ["post_password"]=>
    string(0) ""
    ["post_name"]=>
    string(7) "vettore"
    ["to_ping"]=>
    string(0) ""
    ["pinged"]=>
    string(0) ""
    ["post_modified"]=>
    string(19) "2022-06-22 12:51:12"
    ["post_modified_gmt"]=>
    string(19) "2022-06-22 10:51:12"
    ["post_content_filtered"]=>
    string(0) ""
    ["post_parent"]=>
    int(0)
    ["guid"]=>
    string(30) "http://toan-nguyen.com/?p=6058"
    ["menu_order"]=>
    int(0)
    ["post_type"]=>
    string(4) "post"
    ["post_mime_type"]=>
    string(0) ""
    ["comment_count"]=>
    string(1) "0"
    ["filter"]=>
    string(3) "raw"
  }
  [11]=>
  object(WP_Post)#3518 (24) {
    ["ID"]=>
    int(1483)
    ["post_author"]=>
    string(1) "1"
    ["post_date"]=>
    string(19) "2013-01-22 15:49:51"
    ["post_date_gmt"]=>
    string(19) "2013-01-22 14:49:51"
    ["post_content"]=>
    string(2416) "


Year > 2013  Description > Modular office system of lounge/operative seating, divider screens and tables  Elements > Armchair, low screens 2 seater sectional elements (11 pcs), high screens 2 seater sectional elements (11 pcs), low screens 3 seater sectional elements  (11 pcs),  high screens 3 seater sectional elements (11 pcs), benches (3 pcs), booth connector screen, 1 seater low elements (2 pcs), 1 seater high elements (2 pcs), personal table, work tables (12 pcs), occasional tables (2 pcs)  Materials > Seating and divider frame: steel covered with knit or fabric; cushions: fabric or leather; table base: powder coated steel; table top: laminate, wood veneer  Awards > Best of NeoCon Award 2013  Project Assistants > Mattia Albicini, Carlo Casagrande, Eloisa Tolu





"
    ["post_title"]=>
    string(9) "Lagunitas"
    ["post_excerpt"]=>
    string(0) ""
    ["post_status"]=>
    string(7) "publish"
    ["comment_status"]=>
    string(6) "closed"
    ["ping_status"]=>
    string(4) "open"
    ["post_password"]=>
    string(0) ""
    ["post_name"]=>
    string(9) "lagunitas"
    ["to_ping"]=>
    string(0) ""
    ["pinged"]=>
    string(0) ""
    ["post_modified"]=>
    string(19) "2018-02-09 09:41:43"
    ["post_modified_gmt"]=>
    string(19) "2018-02-09 08:41:43"
    ["post_content_filtered"]=>
    string(0) ""
    ["post_parent"]=>
    int(0)
    ["guid"]=>
    string(30) "http://toan-nguyen.com/?p=1483"
    ["menu_order"]=>
    int(0)
    ["post_type"]=>
    string(4) "post"
    ["post_mime_type"]=>
    string(0) ""
    ["comment_count"]=>
    string(1) "0"
    ["filter"]=>
    string(3) "raw"
  }
  [12]=>
  object(WP_Post)#3517 (24) {
    ["ID"]=>
    int(1465)
    ["post_author"]=>
    string(1) "1"
    ["post_date"]=>
    string(19) "2013-01-15 09:00:10"
    ["post_date_gmt"]=>
    string(19) "2013-01-15 08:00:10"
    ["post_content"]=>
    string(2504) "


Year > 2013  Description > Collection of modular sofa with tailor-made seam details, sideboards and cupboards with diamond cut coplanar sliding doors, coffee and side tables  Elements > Armchair, sofas (6 pcs), sectional elements (22 pcs),  benches (2 pcs), footstools (6 pcs) cushions (9 pcs), sideboards (4 pcs), cupboards (2 pcs), coffee tables (2 pcs), side table  Materials > Frame: wood, polyurethane foam, polyester fiber; cover: cotton or leather; cushions: goose feathers; sideboards frame: heat-treated oak; doors: diamond cut oak with coplanar mechanism or hinges; shelves: tempered glass; table frame and legs: cast steel with galvanic finish black nickel or polished chrome; table top: glossy/matt lacquered heat-treated oak, tempered glass, marble calacatta gold, emperador or portoro  Project Assistant > Carlo Casagrande




"
    ["post_title"]=>
    string(6) "Taylor"
    ["post_excerpt"]=>
    string(0) ""
    ["post_status"]=>
    string(7) "publish"
    ["comment_status"]=>
    string(6) "closed"
    ["ping_status"]=>
    string(4) "open"
    ["post_password"]=>
    string(0) ""
    ["post_name"]=>
    string(20) "taylor-modular-sofas"
    ["to_ping"]=>
    string(0) ""
    ["pinged"]=>
    string(0) ""
    ["post_modified"]=>
    string(19) "2018-02-09 10:54:30"
    ["post_modified_gmt"]=>
    string(19) "2018-02-09 09:54:30"
    ["post_content_filtered"]=>
    string(0) ""
    ["post_parent"]=>
    int(0)
    ["guid"]=>
    string(30) "http://toan-nguyen.com/?p=1465"
    ["menu_order"]=>
    int(0)
    ["post_type"]=>
    string(4) "post"
    ["post_mime_type"]=>
    string(0) ""
    ["comment_count"]=>
    string(1) "0"
    ["filter"]=>
    string(3) "raw"
  }
  [13]=>
  object(WP_Post)#3516 (24) {
    ["ID"]=>
    int(4076)
    ["post_author"]=>
    string(1) "1"
    ["post_date"]=>
    string(19) "2014-01-03 15:44:06"
    ["post_date_gmt"]=>
    string(19) "2014-01-03 14:44:06"
    ["post_content"]=>
    string(1787) "


Year > 2014  Description > Collection of monolithic modular sofa with expressive tailor-made seam details, coffee and side tables  Elements > Armchair, 3 seater sofa, 4 seater sofa, 2 seater sectional elements (8 pcs), ottoman, cushions (3 pcs), coffee tables (3 pcs), side table  Materials > Frame: wood, polyurethane, fiberfill; cover: fabric, leather with leather diagonal inlays; feet: wengé stained wood;  table base: bent steel plates; table top: glass  Project Assistant > Carlo Casagrande


"
    ["post_title"]=>
    string(8) "Diagonal"
    ["post_excerpt"]=>
    string(0) ""
    ["post_status"]=>
    string(7) "publish"
    ["comment_status"]=>
    string(6) "closed"
    ["ping_status"]=>
    string(4) "open"
    ["post_password"]=>
    string(0) ""
    ["post_name"]=>
    string(8) "diagonal"
    ["to_ping"]=>
    string(0) ""
    ["pinged"]=>
    string(0) ""
    ["post_modified"]=>
    string(19) "2018-02-09 10:53:40"
    ["post_modified_gmt"]=>
    string(19) "2018-02-09 09:53:40"
    ["post_content_filtered"]=>
    string(0) ""
    ["post_parent"]=>
    int(0)
    ["guid"]=>
    string(30) "http://toan-nguyen.com/?p=4076"
    ["menu_order"]=>
    int(0)
    ["post_type"]=>
    string(4) "post"
    ["post_mime_type"]=>
    string(0) ""
    ["comment_count"]=>
    string(1) "0"
    ["filter"]=>
    string(3) "raw"
  }
  [14]=>
  object(WP_Post)#3515 (24) {
    ["ID"]=>
    int(2197)
    ["post_author"]=>
    string(1) "1"
    ["post_date"]=>
    string(19) "2016-01-02 12:00:44"
    ["post_date_gmt"]=>
    string(19) "2016-01-02 11:00:44"
    ["post_content"]=>
    string(1106) "


Year > 2016  Description > Sled base sofa collection  Elements > 3 seater sofa, 4 seater sofa  Materials >  Frame: wood, polyurethane, feathers; back frame: steel, polyurethane; cover: fabric or leather; cushions: mixed feathers, polyurethane insert; buckles: gun-metal grey steel; legs: metal with gun-metal grey finish  Project Assistants > Alberto Pasquale, Gianluca Sandrin


"
    ["post_title"]=>
    string(9) "Soho Lite"
    ["post_excerpt"]=>
    string(0) ""
    ["post_status"]=>
    string(7) "publish"
    ["comment_status"]=>
    string(6) "closed"
    ["ping_status"]=>
    string(4) "open"
    ["post_password"]=>
    string(0) ""
    ["post_name"]=>
    string(9) "soho-lite"
    ["to_ping"]=>
    string(0) ""
    ["pinged"]=>
    string(0) ""
    ["post_modified"]=>
    string(19) "2018-02-09 09:53:16"
    ["post_modified_gmt"]=>
    string(19) "2018-02-09 08:53:16"
    ["post_content_filtered"]=>
    string(0) ""
    ["post_parent"]=>
    int(0)
    ["guid"]=>
    string(30) "http://toan-nguyen.com/?p=2197"
    ["menu_order"]=>
    int(0)
    ["post_type"]=>
    string(4) "post"
    ["post_mime_type"]=>
    string(0) ""
    ["comment_count"]=>
    string(1) "0"
    ["filter"]=>
    string(3) "raw"
  }
  [15]=>
  object(WP_Post)#3514 (24) {
    ["ID"]=>
    int(1818)
    ["post_author"]=>
    string(1) "1"
    ["post_date"]=>
    string(19) "2011-01-05 18:58:04"
    ["post_date_gmt"]=>
    string(19) "2011-01-05 17:58:04"
    ["post_content"]=>
    string(1678) "


Year > 2011  Description > Outdoor collection of dining chair, armchair and sofa  Elements >  Dining chair, armchair, 2 seater sofa   Materials >  Frame: powder coated aluminum; frame cover: hand woven polypropylene mesh; seat: polyurethane; cushions cover: silicon polyester and mixed paineira; feet: aluminum polyethylene  Project Assistant > Carlo Casagrande


"
    ["post_title"]=>
    string(3) "Obi"
    ["post_excerpt"]=>
    string(0) ""
    ["post_status"]=>
    string(7) "publish"
    ["comment_status"]=>
    string(6) "closed"
    ["ping_status"]=>
    string(4) "open"
    ["post_password"]=>
    string(0) ""
    ["post_name"]=>
    string(5) "obi-2"
    ["to_ping"]=>
    string(0) ""
    ["pinged"]=>
    string(0) ""
    ["post_modified"]=>
    string(19) "2018-02-15 17:04:05"
    ["post_modified_gmt"]=>
    string(19) "2018-02-15 16:04:05"
    ["post_content_filtered"]=>
    string(0) ""
    ["post_parent"]=>
    int(0)
    ["guid"]=>
    string(30) "http://toan-nguyen.com/?p=1818"
    ["menu_order"]=>
    int(0)
    ["post_type"]=>
    string(4) "post"
    ["post_mime_type"]=>
    string(0) ""
    ["comment_count"]=>
    string(1) "0"
    ["filter"]=>
    string(3) "raw"
  }
  [16]=>
  object(WP_Post)#3513 (24) {
    ["ID"]=>
    int(1239)
    ["post_author"]=>
    string(1) "1"
    ["post_date"]=>
    string(19) "2015-01-08 09:00:24"
    ["post_date_gmt"]=>
    string(19) "2015-01-08 08:00:24"
    ["post_content"]=>
    string(1978) "


Year > 2015  Description > Collection of highly configurable modular sofa, lounge and club armchairs, occasional square table  Elements > Lounge chair, club chair, settee, three seater sofa, sectional elements (10), sectional benches (3), square table  Materials > Frame: wood, polyurethane, feathers; cover: fabric or leather; table top: laminate, veneer, solid surface or two types of back-painted glass  Awards >  Chicago Athenaeum's Good Design Award 2015  Project Assistants > Alberto Pasquale, Georgi Novoselets






"
    ["post_title"]=>
    string(8) "Infinito"
    ["post_excerpt"]=>
    string(0) ""
    ["post_status"]=>
    string(7) "publish"
    ["comment_status"]=>
    string(6) "closed"
    ["ping_status"]=>
    string(4) "open"
    ["post_password"]=>
    string(0) ""
    ["post_name"]=>
    string(8) "infinito"
    ["to_ping"]=>
    string(0) ""
    ["pinged"]=>
    string(0) ""
    ["post_modified"]=>
    string(19) "2018-02-09 09:54:12"
    ["post_modified_gmt"]=>
    string(19) "2018-02-09 08:54:12"
    ["post_content_filtered"]=>
    string(0) ""
    ["post_parent"]=>
    int(0)
    ["guid"]=>
    string(30) "http://toan-nguyen.com/?p=1239"
    ["menu_order"]=>
    int(2)
    ["post_type"]=>
    string(4) "post"
    ["post_mime_type"]=>
    string(0) ""
    ["comment_count"]=>
    string(1) "0"
    ["filter"]=>
    string(3) "raw"
  }
  [17]=>
  object(WP_Post)#3512 (24) {
    ["ID"]=>
    int(44)
    ["post_author"]=>
    string(1) "1"
    ["post_date"]=>
    string(19) "2014-01-06 09:00:02"
    ["post_date_gmt"]=>
    string(19) "2014-01-06 08:00:02"
    ["post_content"]=>
    string(1545) "


Year > 2014  Description > Modular high and low back sofa collection  Elements >  Low armchair, high loveseat, low 2 seater sofa, high/low 3 seater sofa, high 4 seater sofa, low sectional elements (5 pcs), cushions (4 pcs)  Materials > Frame: wood, polyurethane, feathers; cover: fabric or leather; feet: wengé stained wood Awards > Elle Decoration Russia Bests of the Year Award 2014  Project Assistant > Carlo Casagrande


"
    ["post_title"]=>
    string(6) "Cocoon"
    ["post_excerpt"]=>
    string(0) ""
    ["post_status"]=>
    string(7) "publish"
    ["comment_status"]=>
    string(6) "closed"
    ["ping_status"]=>
    string(4) "open"
    ["post_password"]=>
    string(0) ""
    ["post_name"]=>
    string(6) "cocoon"
    ["to_ping"]=>
    string(0) ""
    ["pinged"]=>
    string(0) ""
    ["post_modified"]=>
    string(19) "2018-02-09 09:58:53"
    ["post_modified_gmt"]=>
    string(19) "2018-02-09 08:58:53"
    ["post_content_filtered"]=>
    string(0) ""
    ["post_parent"]=>
    int(0)
    ["guid"]=>
    string(28) "http://toan-nguyen.com/?p=44"
    ["menu_order"]=>
    int(40)
    ["post_type"]=>
    string(4) "post"
    ["post_mime_type"]=>
    string(0) ""
    ["comment_count"]=>
    string(1) "0"
    ["filter"]=>
    string(3) "raw"
  }
  [18]=>
  object(WP_Post)#3510 (24) {
    ["ID"]=>
    int(5394)
    ["post_author"]=>
    string(1) "1"
    ["post_date"]=>
    string(19) "2018-05-27 18:42:34"
    ["post_date_gmt"]=>
    string(19) "2018-05-27 16:42:34"
    ["post_content"]=>
    string(2207) "




Year > 2018  Description > Outdoor collection of sofas and dining chairs Elements > Lounge chair, three-seater sofa, dining armchair, dining chair, chaise, side table  Materials > Frame: handcrafted natural teak; cushions: polyurethane, fiberfill with fabric  Project Assistants >  Alberto Pasquale




"
    ["post_title"]=>
    string(5) "Tress"
    ["post_excerpt"]=>
    string(0) ""
    ["post_status"]=>
    string(7) "publish"
    ["comment_status"]=>
    string(6) "closed"
    ["ping_status"]=>
    string(4) "open"
    ["post_password"]=>
    string(0) ""
    ["post_name"]=>
    string(5) "tress"
    ["to_ping"]=>
    string(0) ""
    ["pinged"]=>
    string(0) ""
    ["post_modified"]=>
    string(19) "2022-11-21 18:26:37"
    ["post_modified_gmt"]=>
    string(19) "2022-11-21 17:26:37"
    ["post_content_filtered"]=>
    string(0) ""
    ["post_parent"]=>
    int(0)
    ["guid"]=>
    string(30) "http://toan-nguyen.com/?p=5394"
    ["menu_order"]=>
    int(0)
    ["post_type"]=>
    string(4) "post"
    ["post_mime_type"]=>
    string(0) ""
    ["comment_count"]=>
    string(1) "0"
    ["filter"]=>
    string(3) "raw"
  }
  [19]=>
  object(WP_Post)#3511 (24) {
    ["ID"]=>
    int(1643)
    ["post_author"]=>
    string(1) "1"
    ["post_date"]=>
    string(19) "2012-01-07 17:26:28"
    ["post_date_gmt"]=>
    string(19) "2012-01-07 16:26:28"
    ["post_content"]=>
    string(1572) "

Agadir is the most minimalistic sofa of the Contemporary Collection and at the same time is very sophisticated thanks to the soft and fine leathers and distinguishing seams.

Year > 2012  Description > Soft and monolithic modular sofa collection  Elements > 2 seater sofa, 3 seater sofa, sectional elements (11 pcs), ottoman, cushions (2 pcs)  Materials > Frame: wood, polyurethane, fiberfill; cushions: polyurethane, fiberfill; feet: gun-metal grey aluminum  Project Assistant > Carlo Casagrande

"
    ["post_title"]=>
    string(6) "Agadir"
    ["post_excerpt"]=>
    string(0) ""
    ["post_status"]=>
    string(7) "publish"
    ["comment_status"]=>
    string(6) "closed"
    ["ping_status"]=>
    string(4) "open"
    ["post_password"]=>
    string(0) ""
    ["post_name"]=>
    string(6) "agadir"
    ["to_ping"]=>
    string(0) ""
    ["pinged"]=>
    string(0) ""
    ["post_modified"]=>
    string(19) "2019-06-12 17:21:59"
    ["post_modified_gmt"]=>
    string(19) "2019-06-12 15:21:59"
    ["post_content_filtered"]=>
    string(0) ""
    ["post_parent"]=>
    int(0)
    ["guid"]=>
    string(30) "http://toan-nguyen.com/?p=1643"
    ["menu_order"]=>
    int(0)
    ["post_type"]=>
    string(4) "post"
    ["post_mime_type"]=>
    string(0) ""
    ["comment_count"]=>
    string(1) "0"
    ["filter"]=>
    string(3) "raw"
  }
  [20]=>
  object(WP_Post)#3480 (24) {
    ["ID"]=>
    int(3170)
    ["post_author"]=>
    string(1) "1"
    ["post_date"]=>
    string(19) "2016-01-06 10:57:35"
    ["post_date_gmt"]=>
    string(19) "2016-01-06 09:57:35"
    ["post_content"]=>
    string(2646) "


Palmer is a modular sofa that defies the laws of gravity: the one-piece seat seems suspended, miraculously held by perimeter supports of the backrest, while the legs that bear the whole sofa mislead to fragility, as vegetal architecture.
The sofa surprises then with its incredible stability and unexpected comfort.




Palmer is the lightest sofa of the Contemporary Collection, result of a drastic reduction both structurally and visually.
The main focus is on modularity, allowing endless configurations thanks to its disconcerting structural simplicity without compromising on ergonomics and extreme comfort.




Year > 2016  Description > Collection of modular sofa and coffee tables  Elements > 2 seater sofa, 3 seater sofa, sectional elements (4 pcs), coffee tables Ø90 (3 pcs), coffee tables Ø60 (3 pcs), coffee tables Ø120 (3 pcs)  Materials > Sofa frame: wood, metal, polyurethane, fiberfill; cover: fabric or leather; cushions: polyurethane, fiberfill; legs: metal with gun-metal grey finish, coffee table top: brushed lacquered wood or vermont leather  Project Assistants > Alberto Pasquale, Gianluca Sandrin




"
    ["post_title"]=>
    string(6) "Palmer"
    ["post_excerpt"]=>
    string(0) ""
    ["post_status"]=>
    string(7) "publish"
    ["comment_status"]=>
    string(6) "closed"
    ["ping_status"]=>
    string(4) "open"
    ["post_password"]=>
    string(0) ""
    ["post_name"]=>
    string(6) "palmer"
    ["to_ping"]=>
    string(0) ""
    ["pinged"]=>
    string(0) ""
    ["post_modified"]=>
    string(19) "2018-01-31 17:37:54"
    ["post_modified_gmt"]=>
    string(19) "2018-01-31 16:37:54"
    ["post_content_filtered"]=>
    string(0) ""
    ["post_parent"]=>
    int(0)
    ["guid"]=>
    string(30) "http://toan-nguyen.com/?p=3170"
    ["menu_order"]=>
    int(0)
    ["post_type"]=>
    string(4) "post"
    ["post_mime_type"]=>
    string(0) ""
    ["comment_count"]=>
    string(1) "0"
    ["filter"]=>
    string(3) "raw"
  }
  [21]=>
  object(WP_Post)#3479 (24) {
    ["ID"]=>
    int(4316)
    ["post_author"]=>
    string(1) "1"
    ["post_date"]=>
    string(19) "2017-01-02 18:00:40"
    ["post_date_gmt"]=>
    string(19) "2017-01-02 17:00:40"
    ["post_content"]=>
    string(2129) "
Todd is a collection whose apparent simplicity hides extreme versatility and modularity. Everyone can design Todd according to space available and depending on the desired use, from the most classic home comfort to more linear and architectural composition. Its proportions are generous and round, but the possibilities it offers are squared. In fact, each element of the collection exists in different sizes: four widths of the seat, two heights of backrest and two armrest heights, thus resulting in multiple variants for each modular element of the collection. Every detail of Todd, from the seams to the legs, has been studied with great care, giving it a strong identity, but above all Todd stands out for the wide range of options at the hand of the end user.


Year > 2017  Description > Highly customizable modular sofa collection  Elements >  2 seater sofas (3 pcs), 3 seater sofas (2 pcs), sectional elements (22 pcs), ottomans (2 pcs)  Materials > Frame: solid wood, plywood, particle board; seat: elastic belts, polyurethane, polyester fiber; cover: leather or fabric; cushions: polyurethane, goose feathers  Project Assistants > Alberto Pasquale


"
    ["post_title"]=>
    string(4) "Todd"
    ["post_excerpt"]=>
    string(0) ""
    ["post_status"]=>
    string(7) "publish"
    ["comment_status"]=>
    string(6) "closed"
    ["ping_status"]=>
    string(4) "open"
    ["post_password"]=>
    string(0) ""
    ["post_name"]=>
    string(4) "todd"
    ["to_ping"]=>
    string(0) ""
    ["pinged"]=>
    string(0) ""
    ["post_modified"]=>
    string(19) "2018-10-05 13:11:29"
    ["post_modified_gmt"]=>
    string(19) "2018-10-05 11:11:29"
    ["post_content_filtered"]=>
    string(0) ""
    ["post_parent"]=>
    int(0)
    ["guid"]=>
    string(30) "http://toan-nguyen.com/?p=4316"
    ["menu_order"]=>
    int(0)
    ["post_type"]=>
    string(4) "post"
    ["post_mime_type"]=>
    string(0) ""
    ["comment_count"]=>
    string(1) "0"
    ["filter"]=>
    string(3) "raw"
  }
  [22]=>
  object(WP_Post)#3478 (24) {
    ["ID"]=>
    int(6205)
    ["post_author"]=>
    string(1) "1"
    ["post_date"]=>
    string(19) "2022-05-09 13:05:10"
    ["post_date_gmt"]=>
    string(19) "2022-05-09 11:05:10"
    ["post_content"]=>
    string(2952) "

After a decade of working with FENDI Casa, my commitment is unchanged: experimenting, creating furniture whose value derives from the quality of the materials, and above all from the excellence of Italian craftsmanship. While referencing the glorious design period of the first half of the twentieth century is only natural, my collections for FENDI Casa are resolutely contemporary, free of nostalgia, designed to stand the test of time. Soho, presented at the Salone del Mobile 2012, has been reimagined and imbued with new elements. As for the new collections, they are as diverse as they are varied, all linked by a common thread: the double F.

Year > 2022  Description > Modular sofa collection  Elements > 2 seater sofas (1 pcs), seater sofa (1 pcs), sectional elements (3 pcs), ottomans (2 pcs)  Materials > Frame: rubber-coated metal backrest with double stitching and leather piping with raw cut stitching, gunmetal-finish steel buckles; seat frame: wood with elastic webbing. Seat and back cushions — polyurethane foam and polyester fibre filler; upholstery: non-removable fabric or leather cover; backrest cover in Palio, Signoria, or Capitolino leather, leather insert to match the backrest cover; base: varnished wood feet  Project Assistant > Alberto Pasquale, Sarah Richiuso







"
    ["post_title"]=>
    string(4) "SOHO"
    ["post_excerpt"]=>
    string(0) ""
    ["post_status"]=>
    string(7) "publish"
    ["comment_status"]=>
    string(6) "closed"
    ["ping_status"]=>
    string(4) "open"
    ["post_password"]=>
    string(0) ""
    ["post_name"]=>
    string(6) "soho-5"
    ["to_ping"]=>
    string(0) ""
    ["pinged"]=>
    string(0) ""
    ["post_modified"]=>
    string(19) "2022-05-11 10:40:08"
    ["post_modified_gmt"]=>
    string(19) "2022-05-11 08:40:08"
    ["post_content_filtered"]=>
    string(0) ""
    ["post_parent"]=>
    int(0)
    ["guid"]=>
    string(30) "http://toan-nguyen.com/?p=6205"
    ["menu_order"]=>
    int(0)
    ["post_type"]=>
    string(4) "post"
    ["post_mime_type"]=>
    string(0) ""
    ["comment_count"]=>
    string(1) "0"
    ["filter"]=>
    string(3) "raw"
  }
  [23]=>
  object(WP_Post)#3477 (24) {
    ["ID"]=>
    int(5625)
    ["post_author"]=>
    string(1) "1"
    ["post_date"]=>
    string(19) "2020-04-20 09:05:08"
    ["post_date_gmt"]=>
    string(19) "2020-04-20 07:05:08"
    ["post_content"]=>
    string(1395) "

Hang is a sofa all in contrasts. It combines the apparent massiveness of its volumes with an extreme lightness of its supports, a rigorous and monolithic line with uncompromising comfort.




Year > 2019  Description > Monolithic sofa with extra light legs  Elements > Three seater sofa  Materials > Frame: solid wood, steel and MDF; Cushions: High resilient variable density polyurethane foam; Legs: black powder coated steel  Project Assistants > Lorenzo Limatola




"
    ["post_title"]=>
    string(4) "Hang"
    ["post_excerpt"]=>
    string(0) ""
    ["post_status"]=>
    string(7) "publish"
    ["comment_status"]=>
    string(6) "closed"
    ["ping_status"]=>
    string(4) "open"
    ["post_password"]=>
    string(0) ""
    ["post_name"]=>
    string(4) "hang"
    ["to_ping"]=>
    string(0) ""
    ["pinged"]=>
    string(0) ""
    ["post_modified"]=>
    string(19) "2020-07-21 16:46:39"
    ["post_modified_gmt"]=>
    string(19) "2020-07-21 14:46:39"
    ["post_content_filtered"]=>
    string(0) ""
    ["post_parent"]=>
    int(0)
    ["guid"]=>
    string(30) "http://toan-nguyen.com/?p=5625"
    ["menu_order"]=>
    int(0)
    ["post_type"]=>
    string(4) "post"
    ["post_mime_type"]=>
    string(0) ""
    ["comment_count"]=>
    string(1) "0"
    ["filter"]=>
    string(3) "raw"
  }
  [24]=>
  object(WP_Post)#3558 (24) {
    ["ID"]=>
    int(59)
    ["post_author"]=>
    string(1) "1"
    ["post_date"]=>
    string(19) "2015-01-03 09:00:13"
    ["post_date_gmt"]=>
    string(19) "2015-01-03 08:00:13"
    ["post_content"]=>
    string(1466) "


Year > 2015  Description > Modular extra-large sofa collection based on a play of contrasting volumes  Elements > Armchair, 2 seater sofa, 3 seater sofa, 4 seater sofa, sectional elements (13 pcs)  Materials > Frame: wood, polyurethane, fiberfill; cover: leather or fabric; cushions: polyurethane, feather, fiberfill; legs: chrome or gun-metal grey steel  Project Assistant > Georgi Novoselets


"
    ["post_title"]=>
    string(6) "Sloane"
    ["post_excerpt"]=>
    string(0) ""
    ["post_status"]=>
    string(7) "publish"
    ["comment_status"]=>
    string(6) "closed"
    ["ping_status"]=>
    string(4) "open"
    ["post_password"]=>
    string(0) ""
    ["post_name"]=>
    string(6) "sloane"
    ["to_ping"]=>
    string(0) ""
    ["pinged"]=>
    string(0) ""
    ["post_modified"]=>
    string(19) "2018-02-09 09:55:39"
    ["post_modified_gmt"]=>
    string(19) "2018-02-09 08:55:39"
    ["post_content_filtered"]=>
    string(0) ""
    ["post_parent"]=>
    int(0)
    ["guid"]=>
    string(28) "http://toan-nguyen.com/?p=59"
    ["menu_order"]=>
    int(35)
    ["post_type"]=>
    string(4) "post"
    ["post_mime_type"]=>
    string(0) ""
    ["comment_count"]=>
    string(1) "0"
    ["filter"]=>
    string(3) "raw"
  }
  [25]=>
  object(WP_Post)#3559 (24) {
    ["ID"]=>
    int(1175)
    ["post_author"]=>
    string(1) "1"
    ["post_date"]=>
    string(19) "2016-01-05 08:00:42"
    ["post_date_gmt"]=>
    string(19) "2016-01-05 07:00:42"
    ["post_content"]=>
    string(1575) "


Year > 2016  Description > Outdoor collection of monolithic modular sofa, tubular coffee and side tables  Elements > Armchair, sectional elements (8 pcs), beach chair, footstools (2 pcs), coffee tables (6 pcs), side table  Materials > Frame: powder-coated aluminum; cover: woven Dedon fiber; cushions: polyurethane, fiberfill with fabric; table frame: powder-coated stainless steel; table top: premium solid teak slats, high-impact ceramic  Project Assistants > Carlo Casagrande, Georgi Novoselets, Alberto Pasquale





Photo Credits: Dedon

"
    ["post_title"]=>
    string(3) "Lou"
    ["post_excerpt"]=>
    string(0) ""
    ["post_status"]=>
    string(7) "publish"
    ["comment_status"]=>
    string(6) "closed"
    ["ping_status"]=>
    string(4) "open"
    ["post_password"]=>
    string(0) ""
    ["post_name"]=>
    string(24) "lou-outdoor-modular-sofa"
    ["to_ping"]=>
    string(0) ""
    ["pinged"]=>
    string(0) ""
    ["post_modified"]=>
    string(19) "2018-06-27 18:38:35"
    ["post_modified_gmt"]=>
    string(19) "2018-06-27 16:38:35"
    ["post_content_filtered"]=>
    string(0) ""
    ["post_parent"]=>
    int(0)
    ["guid"]=>
    string(30) "http://toan-nguyen.com/?p=1175"
    ["menu_order"]=>
    int(7)
    ["post_type"]=>
    string(4) "post"
    ["post_mime_type"]=>
    string(0) ""
    ["comment_count"]=>
    string(1) "0"
    ["filter"]=>
    string(3) "raw"
  }
  [26]=>
  object(WP_Post)#3560 (24) {
    ["ID"]=>
    int(6256)
    ["post_author"]=>
    string(1) "1"
    ["post_date"]=>
    string(19) "2022-05-09 13:05:10"
    ["post_date_gmt"]=>
    string(19) "2022-05-09 11:05:10"
    ["post_content"]=>
    string(3175) "

After a decade of working with FENDI Casa, my commitment is unchanged: experimenting, creating furniture whose value derives from the quality of the materials, and above all from the excellence of Italian craftsmanship. While referencing the glorious design period of the first half of the twentieth century is only natural, my collections for FENDI Casa are resolutely contemporary, free of nostalgia, designed to stand the test of time. Soho, presented at the Salone del Mobile 2012, has been reimagined and imbued with new elements. As for the new collections, they are as diverse as they are varied, all linked by a common thread: the double F.

Year > 2022  Description > Organic and monolithic modular sofa collection   Elements > 3 seater sofa (1 pcs), sectional elements (8 pcs), armchair (1 pcs), ottomans (2 pcs)  Materials > Frame: wood upholstered with polyurethane and fiberfill; seat internal frame: frame in wood with elastic webbing; seat and back cushions: polyurethane and fiberfill; covering: nonremovable in fabric or leather; base: frame in wood black stained finish  Project Assistant > Luca Spagnolo, Alberto Pasquale, Sarah Richiuso









"
    ["post_title"]=>
    string(6) "Sandia"
    ["post_excerpt"]=>
    string(0) ""
    ["post_status"]=>
    string(7) "publish"
    ["comment_status"]=>
    string(6) "closed"
    ["ping_status"]=>
    string(4) "open"
    ["post_password"]=>
    string(0) ""
    ["post_name"]=>
    string(6) "sandia"
    ["to_ping"]=>
    string(0) ""
    ["pinged"]=>
    string(0) ""
    ["post_modified"]=>
    string(19) "2022-05-11 10:39:38"
    ["post_modified_gmt"]=>
    string(19) "2022-05-11 08:39:38"
    ["post_content_filtered"]=>
    string(0) ""
    ["post_parent"]=>
    int(0)
    ["guid"]=>
    string(30) "http://toan-nguyen.com/?p=6256"
    ["menu_order"]=>
    int(0)
    ["post_type"]=>
    string(4) "post"
    ["post_mime_type"]=>
    string(0) ""
    ["comment_count"]=>
    string(1) "0"
    ["filter"]=>
    string(3) "raw"
  }
  [27]=>
  object(WP_Post)#3561 (24) {
    ["ID"]=>
    int(6445)
    ["post_author"]=>
    string(1) "1"
    ["post_date"]=>
    string(19) "2022-09-19 18:31:30"
    ["post_date_gmt"]=>
    string(19) "2022-09-19 16:31:30"
    ["post_content"]=>
    string(2750) "

The challenge of the STILT collection for District Eight comes first of all from the particular context: to design for an atypical Vietnamese company a collection of furniture that draws its inspiration from the culture of Vietnam, highlighting its tradition of craftsmanship while maintaining an ongoing dialogue with the manufacturing culture of contemporary European furniture.
The generous cushions, which offer extreme comfort thanks to a complex internal construction, are supported by a thin curved wooden shell, upholstered in fabric or leather, which seems weightless. The bearing structure is clearly distinct and consists of solid wooden logs with important sections like traditional Asian wooden constructions. However, the metal completes the construction, playing an essential role in stabilizing the structure while lightening the silhouette. As much as the wood is generous and round, as much the metal is its exact opposite. The logs with perfect verticality are indeed connected to each other thanks to a branched metal structure through recessed joints of apparent simplicity and immediate reading but made with cutlery precision and a mechanical design engineered to the smallest details.
STILT is the result of a quest for harmony in contrast.

Year > 2022  Description > Chaise Lounge  Materials > Legs: raw, smoked or ebonized solid oak with nickel, brass or copper details; frame: wood, polyurethane, fiberfill covered with fabric or leather; sofa cushions: polyurethane, fiberfill  Project Assistants > Sarah Richiuso, Luca Spagnolo




"
    ["post_title"]=>
    string(19) "Stilt Chaise Lounge"
    ["post_excerpt"]=>
    string(0) ""
    ["post_status"]=>
    string(7) "publish"
    ["comment_status"]=>
    string(6) "closed"
    ["ping_status"]=>
    string(4) "open"
    ["post_password"]=>
    string(0) ""
    ["post_name"]=>
    string(19) "stilt-chaise-lounge"
    ["to_ping"]=>
    string(0) ""
    ["pinged"]=>
    string(0) ""
    ["post_modified"]=>
    string(19) "2022-09-22 10:08:53"
    ["post_modified_gmt"]=>
    string(19) "2022-09-22 08:08:53"
    ["post_content_filtered"]=>
    string(0) ""
    ["post_parent"]=>
    int(0)
    ["guid"]=>
    string(30) "http://toan-nguyen.com/?p=6445"
    ["menu_order"]=>
    int(0)
    ["post_type"]=>
    string(4) "post"
    ["post_mime_type"]=>
    string(0) ""
    ["comment_count"]=>
    string(1) "0"
    ["filter"]=>
    string(3) "raw"
  }
  [28]=>
  object(WP_Post)#3562 (24) {
    ["ID"]=>
    int(1786)
    ["post_author"]=>
    string(1) "1"
    ["post_date"]=>
    string(19) "2011-01-09 18:48:36"
    ["post_date_gmt"]=>
    string(19) "2011-01-09 17:48:36"
    ["post_content"]=>
    string(2153) "

The name Mu is derived from Zen philosophy, and refers to the idea of nothing but in a very positive way. The intention was to apply this principle to the design of an outdoor sofa collection eliminating any superfluous volumes, materials and decorations to focus only on comfort, tactility and sophistication of each detail, result of a harmonious mix of precise technological processes with outstanding craftsmanship.

Year > 2011  Description > Outdoor collection of modular sofa and tables  Elements > Lounge chair, sectional elements (7 pcs), adjustable beach chair, footstool/benches (3 pcs), side table, coffee tables (3 pcs)  Materials > Frame: die-casted electrostatic powder-coated aluminum; cover: woven Dedon fiber; cushions: polypropylene, fabric; coffee table top: glass or HPL  Project Assistants > Carlo Casagrande






Photo Credits: Dedon

"
    ["post_title"]=>
    string(2) "Mu"
    ["post_excerpt"]=>
    string(0) ""
    ["post_status"]=>
    string(7) "publish"
    ["comment_status"]=>
    string(6) "closed"
    ["ping_status"]=>
    string(4) "open"
    ["post_password"]=>
    string(0) ""
    ["post_name"]=>
    string(2) "mu"
    ["to_ping"]=>
    string(0) ""
    ["pinged"]=>
    string(0) ""
    ["post_modified"]=>
    string(19) "2019-06-12 17:19:05"
    ["post_modified_gmt"]=>
    string(19) "2019-06-12 15:19:05"
    ["post_content_filtered"]=>
    string(0) ""
    ["post_parent"]=>
    int(0)
    ["guid"]=>
    string(30) "http://toan-nguyen.com/?p=1786"
    ["menu_order"]=>
    int(0)
    ["post_type"]=>
    string(4) "post"
    ["post_mime_type"]=>
    string(0) ""
    ["comment_count"]=>
    string(1) "0"
    ["filter"]=>
    string(3) "raw"
  }
  [29]=>
  object(WP_Post)#3563 (24) {
    ["ID"]=>
    int(6319)
    ["post_author"]=>
    string(1) "1"
    ["post_date"]=>
    string(19) "2022-07-01 12:09:05"
    ["post_date_gmt"]=>
    string(19) "2022-07-01 10:09:05"
    ["post_content"]=>
    string(2445) "

After a decade of working with FENDI Casa, my commitment is unchanged: experimenting, creating furniture whose value derives from the quality of the materials, and above all from the excellence of Italian craftsmanship. While referencing the glorious design period of the first half of the twentieth century is only natural, my collections for FENDI Casa are resolutely contemporary, free of nostalgia, designed to stand the test of time. Soho, presented at the Salone del Mobile 2012, has been reimagined and imbued with new elements. As for the new collections, they are as diverse as they are varied, all linked by a common thread: the double F.

Year > 2022  Description > Modular sofa collection, armchair, and dining chair  Elements > 3 seater sofa (1 pcs), 2 seater sofa (1 pcs), chaise longue (1 pcs), armchair (1 pcs), dining chair (1 pcs)  Materials > Frame: welded and painted steel structure, armrest ends with FF logo finished in old bronze, body in Capitolino or Tuscany leather with matching or contrasting leather edges; seat: padding in polyurethane foam and polyester wadding; cover: fabric or leather with tone-on-tone piping, or Micro FF or FENDI Pequin fabric  Project Assistant > Luca Spagnolo





"
    ["post_title"]=>
    string(4) "Totu"
    ["post_excerpt"]=>
    string(0) ""
    ["post_status"]=>
    string(7) "publish"
    ["comment_status"]=>
    string(6) "closed"
    ["ping_status"]=>
    string(4) "open"
    ["post_password"]=>
    string(0) ""
    ["post_name"]=>
    string(4) "totu"
    ["to_ping"]=>
    string(0) ""
    ["pinged"]=>
    string(0) ""
    ["post_modified"]=>
    string(19) "2022-07-01 19:08:21"
    ["post_modified_gmt"]=>
    string(19) "2022-07-01 17:08:21"
    ["post_content_filtered"]=>
    string(0) ""
    ["post_parent"]=>
    int(0)
    ["guid"]=>
    string(30) "http://toan-nguyen.com/?p=6319"
    ["menu_order"]=>
    int(0)
    ["post_type"]=>
    string(4) "post"
    ["post_mime_type"]=>
    string(0) ""
    ["comment_count"]=>
    string(1) "0"
    ["filter"]=>
    string(3) "raw"
  }
  [30]=>
  object(WP_Post)#3639 (24) {
    ["ID"]=>
    int(1706)
    ["post_author"]=>
    string(1) "1"
    ["post_date"]=>
    string(19) "2012-01-12 18:10:26"
    ["post_date_gmt"]=>
    string(19) "2012-01-12 17:10:26"
    ["post_content"]=>
    string(2213) "


Year > 2012, Bed Collection 2017  Description > Collection of modular sofa, beds, bedside table and chest of drawers  Elements > 2 seater sofas (2 pcs), 3/4 seater sofa (2 pcs), sectional elements (10 pcs), ottomans (4 pcs), beds (6 pcs), bedside table, chest of drawers  Materials > Sofa and bed frame: wood, polyurethane feathers, fiberfill; cushions: polyurethane, feathers, fiberfill; back structure: steel covered in leather; buckles: gun-metal grey steel; drawers: lacquered matt wood with leather handles  Project Assistants > Carlo Casagrande, Maurizio Valle, Alberto Pasquale, Gianluca Sandrin


   "
    ["post_title"]=>
    string(4) "Soho"
    ["post_excerpt"]=>
    string(0) ""
    ["post_status"]=>
    string(7) "publish"
    ["comment_status"]=>
    string(6) "closed"
    ["ping_status"]=>
    string(4) "open"
    ["post_password"]=>
    string(0) ""
    ["post_name"]=>
    string(4) "soho"
    ["to_ping"]=>
    string(0) ""
    ["pinged"]=>
    string(0) ""
    ["post_modified"]=>
    string(19) "2018-01-31 17:38:47"
    ["post_modified_gmt"]=>
    string(19) "2018-01-31 16:38:47"
    ["post_content_filtered"]=>
    string(0) ""
    ["post_parent"]=>
    int(0)
    ["guid"]=>
    string(30) "http://toan-nguyen.com/?p=1706"
    ["menu_order"]=>
    int(0)
    ["post_type"]=>
    string(4) "post"
    ["post_mime_type"]=>
    string(0) ""
    ["comment_count"]=>
    string(1) "0"
    ["filter"]=>
    string(3) "raw"
  }
  [31]=>
  object(WP_Post)#3638 (24) {
    ["ID"]=>
    int(5595)
    ["post_author"]=>
    string(1) "1"
    ["post_date"]=>
    string(19) "2019-06-04 12:00:10"
    ["post_date_gmt"]=>
    string(19) "2019-06-04 10:00:10"
    ["post_content"]=>
    string(2388) "

Year > 2019  Description > Sofa, armchair, chaise longue and bed collection  Elements > Three seater sofa, armchair, chaise longue, beds (2 pcs)  Materials > Sofa and chaise longue frame: rigid polyurethane; sofa frame cover: leather;  chaise longue mattress: mesh motif leather; bed frame: wood, rigid polyurethane; cushions: feathers, polyurethane; cushions cover: leather and textile  Project Assistants > Alberto Pasquale

"
    ["post_title"]=>
    string(6) "Chiron"
    ["post_excerpt"]=>
    string(0) ""
    ["post_status"]=>
    string(7) "publish"
    ["comment_status"]=>
    string(6) "closed"
    ["ping_status"]=>
    string(4) "open"
    ["post_password"]=>
    string(0) ""
    ["post_name"]=>
    string(20) "chiron-chaise-longue"
    ["to_ping"]=>
    string(0) ""
    ["pinged"]=>
    string(0) ""
    ["post_modified"]=>
    string(19) "2019-06-04 15:15:35"
    ["post_modified_gmt"]=>
    string(19) "2019-06-04 13:15:35"
    ["post_content_filtered"]=>
    string(0) ""
    ["post_parent"]=>
    int(0)
    ["guid"]=>
    string(30) "http://toan-nguyen.com/?p=5595"
    ["menu_order"]=>
    int(0)
    ["post_type"]=>
    string(4) "post"
    ["post_mime_type"]=>
    string(0) ""
    ["comment_count"]=>
    string(1) "0"
    ["filter"]=>
    string(3) "raw"
  }
}