Lani
Laufen
Today more than ever, the quality of individual space is an absolute priority, and the bathroom is undoubtedly the most intimate place in private or collective spaces.
Design is above all an approach, a close attention to the object, applied to the craftsmanship of excellence as well as to affordable serial production, like the LUA Collection. Relieved of any formal artifice, LUA is a bathroom collection whose simplicity of design is the result of targeted research and rigorous development.
The strength of LUA also lies in the breadth of its range and the consistency of each of its integral parts, as different as they are by their materials and industrial processes: ceramics, furniture, bathtubs, and faucets.
LUA draws its inspiration from daily life and celebrates everyday gestures, which are as simple as they are essential. It is the object that must adapt to the requirements of the space and its users and not the other way around.
LUA is focused on the user's harmonious relationship with the object, both functional and tactile, around the unifying and universal theme of Water.
Lua and Lani website

Year > 2022  Description > Collection of vanity units and cabinets  Elements > Vanity unit with one door (1 pcs), vanity unit with two drawers (12 pcs), wall cabinet with one door (2 pcs), tall cabinet with one door (1 pcs)  Materials > Body/front: 19 mm MDF panels, lacquered or PVC wild oak furniture foil; integrated handle in the front  Project Assistants > Alberto Pasquale, Lorenzo Limatola

Ph. credits: Oliver Helbig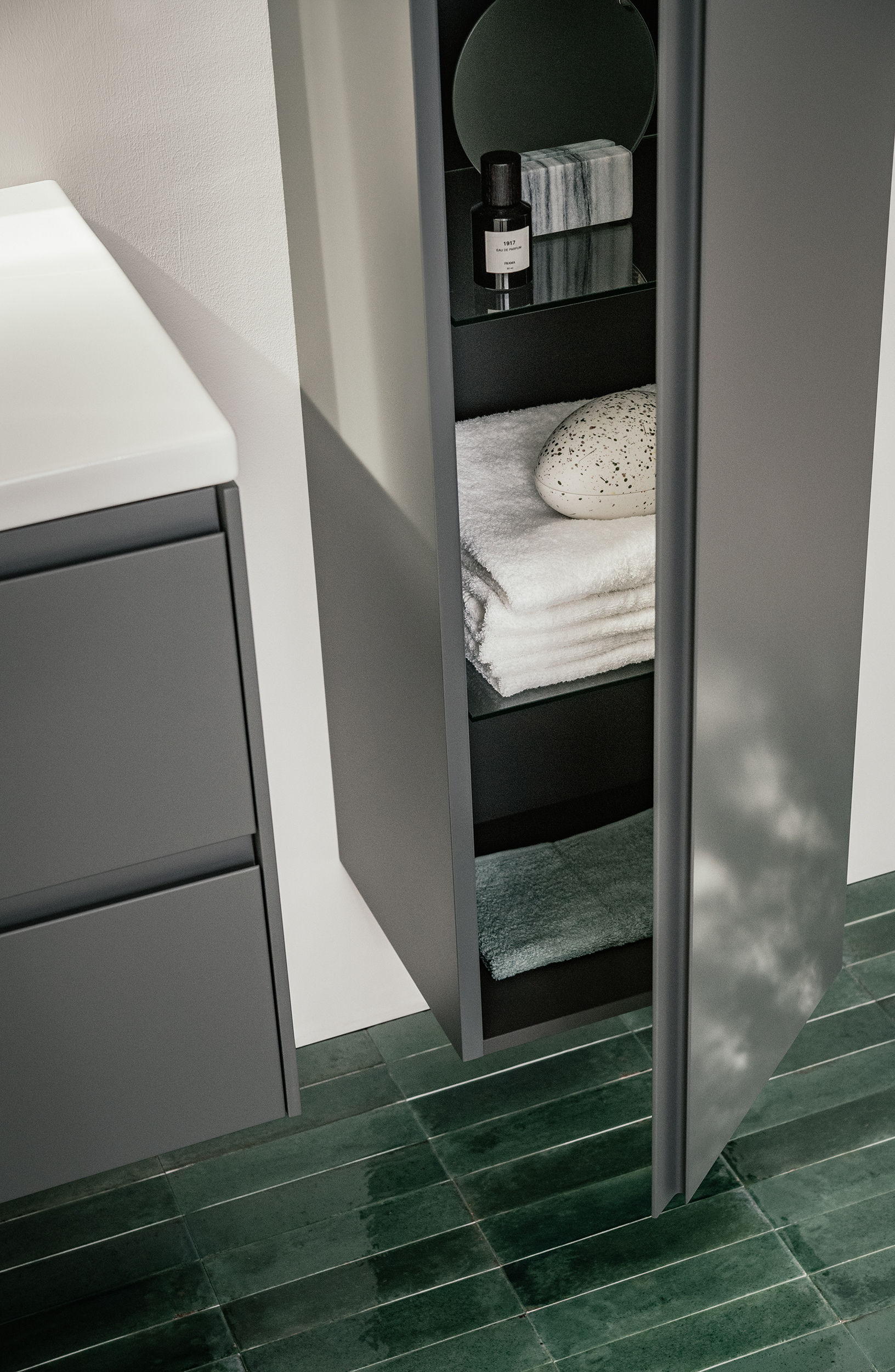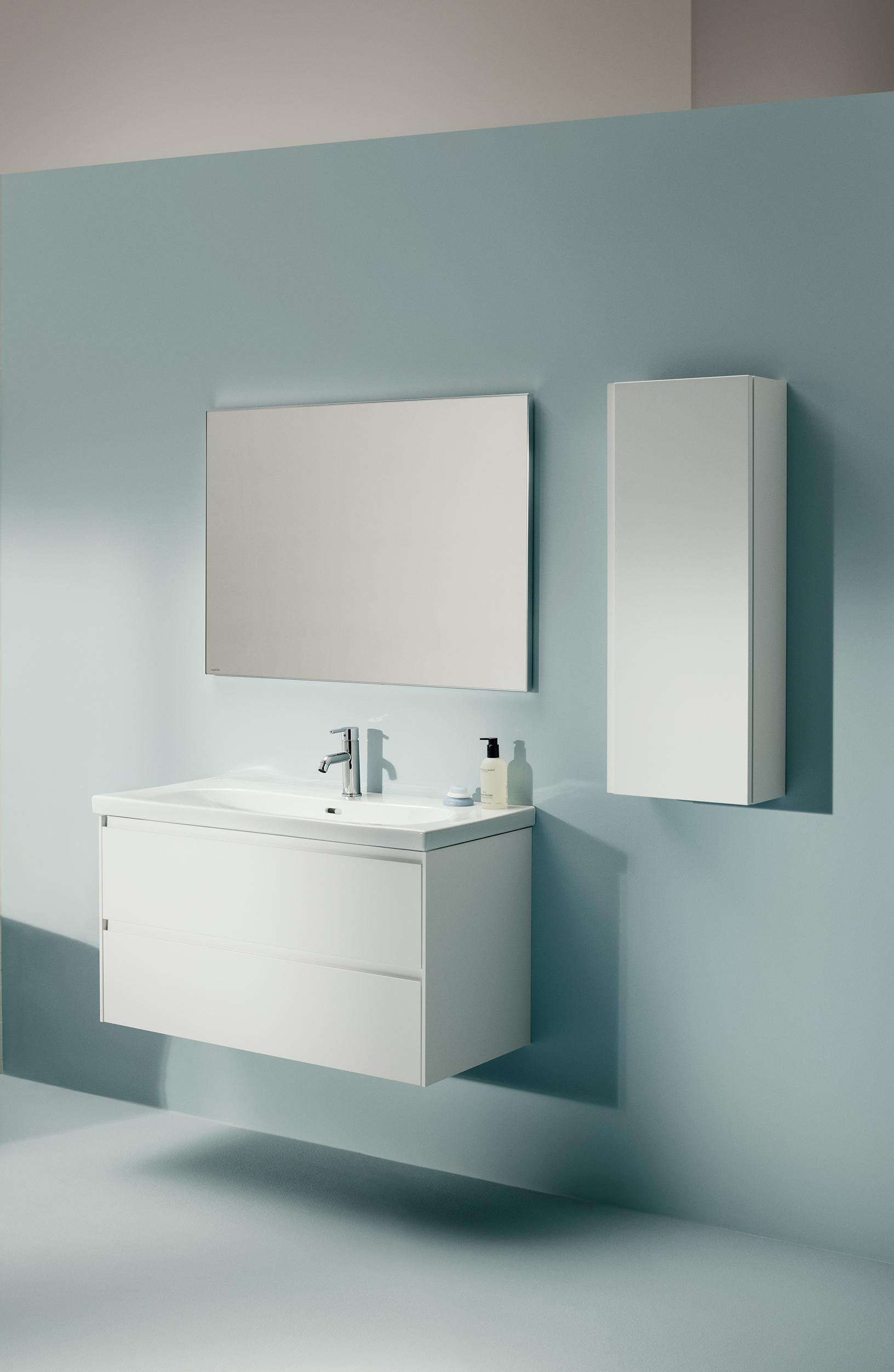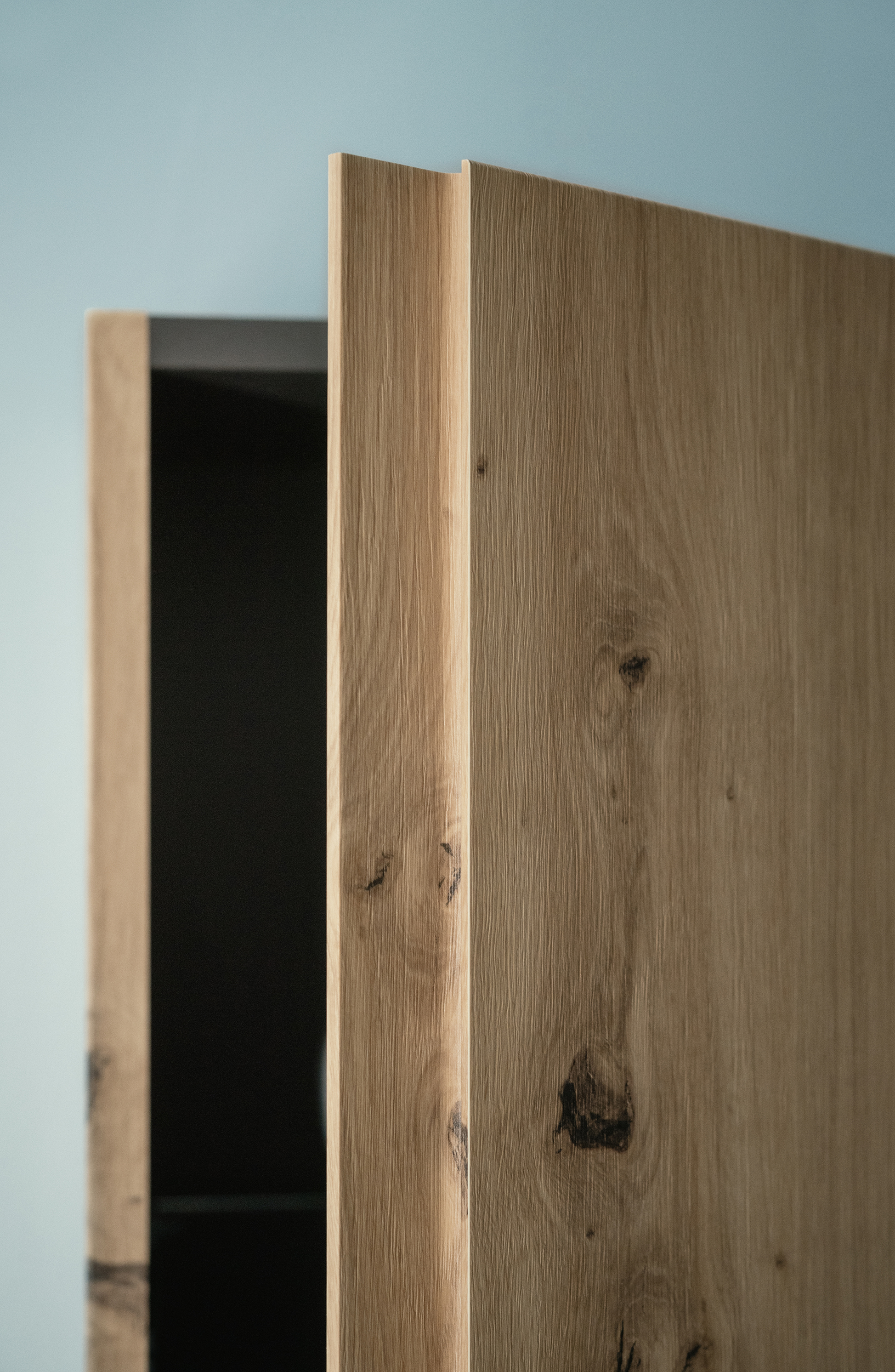 ID: 6507

---

$cat: Bathroom

---

$cli: Laufen

---

---

$res: array(8) {
  [0]=>
  object(WP_Post)#3552 (24) {
    ["ID"]=>
    int(1199)
    ["post_author"]=>
    string(1) "1"
    ["post_date"]=>
    string(19) "2015-01-12 09:00:05"
    ["post_date_gmt"]=>
    string(19) "2015-01-12 08:00:05"
    ["post_content"]=>
    string(2945) "

Ino is a complete bathroom collection, where each element meets the contemporary needs of optimizing space and matter. Dedicated to the final user, Ino refers to the archetypes whereas the volumes give way to surfaces and thickness to taut lines: the SaphirKeramik washbasins offer unexpected roundness and generosity encouraging the touch; the freestanding bathtubs in Sentec resin reconcile the line precision with extreme seating comfort for the bath; and the wall hanging furniture of monolithic appearance reveal, at the opening of shaped aluminum fine doors, rational and intimate storage space.

Year > 2015  Description > Collection of washbasins, freestanding bathtubs, vanity units and cabinets  Elements > Washbasins (2 pcs), washbasins with shelf (2 pcs), washbasin bowls (2 pcs), half-inserted washbasins (2 pcs), asymmetric freestanding bathtub, symmetric freestanding bathtub, vanity unit with one door (4 pcs), vanity unity with one drawer, tall cabinet with one door (2 pcs), storage shelf for cabinet  Materials > Saphirkeramik: super-strong and malleable ceramic material allowing wafer-thin yet robust walls and tight-edge radii; bathtub: single casted sentec solid surface material; cabinets frame: MDF; cabinets drawers and doors: lacquered or veneered aluminium  Awards > ISH Design Plus Award 2015, Descom Designpreis 2015  Project Assistants > Carlo Casagrande, Alberto Pasquale, Georgi Novoselets



"
    ["post_title"]=>
    string(3) "Ino"
    ["post_excerpt"]=>
    string(0) ""
    ["post_status"]=>
    string(7) "publish"
    ["comment_status"]=>
    string(6) "closed"
    ["ping_status"]=>
    string(4) "open"
    ["post_password"]=>
    string(0) ""
    ["post_name"]=>
    string(3) "ino"
    ["to_ping"]=>
    string(0) ""
    ["pinged"]=>
    string(0) ""
    ["post_modified"]=>
    string(19) "2018-07-06 09:13:31"
    ["post_modified_gmt"]=>
    string(19) "2018-07-06 07:13:31"
    ["post_content_filtered"]=>
    string(0) ""
    ["post_parent"]=>
    int(0)
    ["guid"]=>
    string(30) "http://toan-nguyen.com/?p=1199"
    ["menu_order"]=>
    int(5)
    ["post_type"]=>
    string(4) "post"
    ["post_mime_type"]=>
    string(0) ""
    ["comment_count"]=>
    string(1) "0"
    ["filter"]=>
    string(3) "raw"
  }
  [1]=>
  object(WP_Post)#3544 (24) {
    ["ID"]=>
    int(63)
    ["post_author"]=>
    string(1) "1"
    ["post_date"]=>
    string(19) "2015-01-09 09:00:52"
    ["post_date_gmt"]=>
    string(19) "2015-01-09 08:00:52"
    ["post_content"]=>
    string(1020) "


Year > 2015  Description > Electronic flush plates  Elements > Electronic flush plates (2 pcs) Materials > Screen: printed glass  Project Assistants > Alberto Pasquale, Eloisa Tolu


  "
    ["post_title"]=>
    string(3) "Lis"
    ["post_excerpt"]=>
    string(0) ""
    ["post_status"]=>
    string(7) "publish"
    ["comment_status"]=>
    string(6) "closed"
    ["ping_status"]=>
    string(4) "open"
    ["post_password"]=>
    string(0) ""
    ["post_name"]=>
    string(3) "lis"
    ["to_ping"]=>
    string(0) ""
    ["pinged"]=>
    string(0) ""
    ["post_modified"]=>
    string(19) "2018-01-19 18:19:27"
    ["post_modified_gmt"]=>
    string(19) "2018-01-19 17:19:27"
    ["post_content_filtered"]=>
    string(0) ""
    ["post_parent"]=>
    int(0)
    ["guid"]=>
    string(28) "http://toan-nguyen.com/?p=63"
    ["menu_order"]=>
    int(33)
    ["post_type"]=>
    string(4) "post"
    ["post_mime_type"]=>
    string(0) ""
    ["comment_count"]=>
    string(1) "0"
    ["filter"]=>
    string(3) "raw"
  }
  [2]=>
  object(WP_Post)#3551 (24) {
    ["ID"]=>
    int(4290)
    ["post_author"]=>
    string(1) "1"
    ["post_date"]=>
    string(19) "2017-01-06 18:00:57"
    ["post_date_gmt"]=>
    string(19) "2017-01-06 17:00:57"
    ["post_content"]=>
    string(1337) "


Year > 2017  Description > Ino exhibition for Laufen showroom during Milan Design Week 2017  Project Assistants > Alberto Pasquale, Sarah Richiuso







Photo courtesy of Laufen Bathrooms AG

"
    ["post_title"]=>
    string(24) "Ino  |  FuoriSalone 2017"
    ["post_excerpt"]=>
    string(0) ""
    ["post_status"]=>
    string(7) "publish"
    ["comment_status"]=>
    string(6) "closed"
    ["ping_status"]=>
    string(4) "open"
    ["post_password"]=>
    string(0) ""
    ["post_name"]=>
    string(14) "ino-exhibition"
    ["to_ping"]=>
    string(0) ""
    ["pinged"]=>
    string(0) ""
    ["post_modified"]=>
    string(19) "2018-10-05 13:12:49"
    ["post_modified_gmt"]=>
    string(19) "2018-10-05 11:12:49"
    ["post_content_filtered"]=>
    string(0) ""
    ["post_parent"]=>
    int(0)
    ["guid"]=>
    string(30) "http://toan-nguyen.com/?p=4290"
    ["menu_order"]=>
    int(0)
    ["post_type"]=>
    string(4) "post"
    ["post_mime_type"]=>
    string(0) ""
    ["comment_count"]=>
    string(1) "0"
    ["filter"]=>
    string(3) "raw"
  }
  [3]=>
  object(WP_Post)#3546 (24) {
    ["ID"]=>
    int(1744)
    ["post_author"]=>
    string(1) "1"
    ["post_date"]=>
    string(19) "2012-01-05 18:26:52"
    ["post_date_gmt"]=>
    string(19) "2012-01-05 17:26:52"
    ["post_content"]=>
    string(1698) "


Antero has an intrinsic duality: that of being an object used for an intimate function, yet located in a public space. The intention here is to avoid trivializing a ritual act during which the time dimension is suspended for a few moments. The two-dimensional aspect generated by the simple geometric shape makes the object appear as architectural and definitely intended to serial installation, while the three-dimensionality of the parts that interact with the body foster the most natural and harmonious relationship with the user possible.




Year > 2012  Description > Siphonic public urinal, urinal divider  Materials > Sanitary vitreous china ceramic  Awards > Red Dot Award 2012  Project Assistant > Carlo Casagrande




"
    ["post_title"]=>
    string(14) "Antero & Cinto"
    ["post_excerpt"]=>
    string(0) ""
    ["post_status"]=>
    string(7) "publish"
    ["comment_status"]=>
    string(6) "closed"
    ["ping_status"]=>
    string(4) "open"
    ["post_password"]=>
    string(0) ""
    ["post_name"]=>
    string(12) "antero_cinto"
    ["to_ping"]=>
    string(0) ""
    ["pinged"]=>
    string(0) ""
    ["post_modified"]=>
    string(19) "2018-02-09 11:04:20"
    ["post_modified_gmt"]=>
    string(19) "2018-02-09 10:04:20"
    ["post_content_filtered"]=>
    string(0) ""
    ["post_parent"]=>
    int(0)
    ["guid"]=>
    string(30) "http://toan-nguyen.com/?p=1744"
    ["menu_order"]=>
    int(0)
    ["post_type"]=>
    string(4) "post"
    ["post_mime_type"]=>
    string(0) ""
    ["comment_count"]=>
    string(1) "0"
    ["filter"]=>
    string(3) "raw"
  }
  [4]=>
  object(WP_Post)#3565 (24) {
    ["ID"]=>
    int(6176)
    ["post_author"]=>
    string(1) "1"
    ["post_date"]=>
    string(19) "2022-05-06 12:43:53"
    ["post_date_gmt"]=>
    string(19) "2022-05-06 10:43:53"
    ["post_content"]=>
    string(4567) "


Today more than ever, the quality of individual space is an absolute priority, and the bathroom is undoubtedly the most intimate place in private or collective spaces. Design is above all an approach, a close attention to the object, applied to the craftsmanship of excellence as well as to affordable serial production, like the LUA Collection. Relieved of any formal artifice, LUA is a bathroom collection whose simplicity of design is the result of targeted research and rigorous development. The strength of LUA also lies in the breadth of its range and the consistency of each of its integral parts, as different as they are by their materials and industrial processes: ceramics, furniture, bathtubs, and faucets. LUA draws its inspiration from daily life and celebrates everyday gestures, which are as simple as they are essential. It is the object that must adapt to the requirements of the space and its users and not the other way around. LUA is focused on the user's harmonious relationship with the object, both functional and tactile, around the unifying and universal theme of Water.

Lua website





Year > 2022  Description > Collection of washbasins, wc, bidets, bathtubs, faucets, and ceramic shelfs  Elements > Wall-hung washbasins (5 pcs), vanity washbasins (10 pcs), bowl washbasin (1 pcs), wall-hung WC (3 pcs), wall-hung bidet (1 pcs), floorstanding WC (4 pcs), floorstanding bidet (1 pcs), WC cisterns (1 pcs), seat cover (1 pcs), freestanding bathtub (1 pcs), back-to-wall bathtub (1 pcs), drop-in bathtub (5 pcs), basin mixers (3 pcs), bidet mixer (1 pcs), bath mixers (3 pcs), shower mixers (2 pcs), shelves (2 pcs)  Materials > Washbasins: vitreous china ceramic; WC: vitreous china ceramic; seat cover: duroplast; bathtub: marbond composite material or sanitary acrylic; faucets: chrome finish  Project Assistants > Alberto Pasquale, Lorenzo Limatola



Ph. credits: Oliver Helbig

















"
    ["post_title"]=>
    string(3) "LUA"
    ["post_excerpt"]=>
    string(0) ""
    ["post_status"]=>
    string(7) "publish"
    ["comment_status"]=>
    string(6) "closed"
    ["ping_status"]=>
    string(4) "open"
    ["post_password"]=>
    string(0) ""
    ["post_name"]=>
    string(3) "lua"
    ["to_ping"]=>
    string(0) ""
    ["pinged"]=>
    string(0) ""
    ["post_modified"]=>
    string(19) "2022-11-22 12:33:37"
    ["post_modified_gmt"]=>
    string(19) "2022-11-22 11:33:37"
    ["post_content_filtered"]=>
    string(0) ""
    ["post_parent"]=>
    int(0)
    ["guid"]=>
    string(30) "http://toan-nguyen.com/?p=6176"
    ["menu_order"]=>
    int(0)
    ["post_type"]=>
    string(4) "post"
    ["post_mime_type"]=>
    string(0) ""
    ["comment_count"]=>
    string(1) "0"
    ["filter"]=>
    string(3) "raw"
  }
  [5]=>
  object(WP_Post)#3564 (24) {
    ["ID"]=>
    int(4263)
    ["post_author"]=>
    string(1) "1"
    ["post_date"]=>
    string(19) "2017-01-07 19:21:59"
    ["post_date_gmt"]=>
    string(19) "2017-01-07 18:21:59"
    ["post_content"]=>
    string(1657) "


Water appears like a flat square plate simply lying on your exhibition table and full of a green lake water. In reality, it is a very slightly curved surface (earth radius of 6.371 km) with inside concentric layers sinking progressively to reach the deep water and the darkness. The result viewed from the top is like an abstract painting with concentric shades of green. Looking under the table, the visitor will understand why the water looks so deep inside this plate.




Year > 2017  Description > Unique SaphirKeramik sculpture designed for 'Milestones. A curated show. What?' on the occasion of Laufen's 125 years  Manufacturer > Laufen Bathrooms AG, Gmunden factory  Dimensions > 50×35×35cm  Materials > SaphirKeramik, plaster mould produced from a shaped model, cast by hand, glazed and sintered  Project Assistant > Alberto Pasquale




"
    ["post_title"]=>
    string(26) "Water  |  FuoriSalone 2017"
    ["post_excerpt"]=>
    string(0) ""
    ["post_status"]=>
    string(7) "publish"
    ["comment_status"]=>
    string(6) "closed"
    ["ping_status"]=>
    string(4) "open"
    ["post_password"]=>
    string(0) ""
    ["post_name"]=>
    string(5) "water"
    ["to_ping"]=>
    string(0) ""
    ["pinged"]=>
    string(0) ""
    ["post_modified"]=>
    string(19) "2018-10-05 13:12:23"
    ["post_modified_gmt"]=>
    string(19) "2018-10-05 11:12:23"
    ["post_content_filtered"]=>
    string(0) ""
    ["post_parent"]=>
    int(0)
    ["guid"]=>
    string(30) "http://toan-nguyen.com/?p=4263"
    ["menu_order"]=>
    int(0)
    ["post_type"]=>
    string(4) "post"
    ["post_mime_type"]=>
    string(0) ""
    ["comment_count"]=>
    string(1) "0"
    ["filter"]=>
    string(3) "raw"
  }
  [6]=>
  object(WP_Post)#3665 (24) {
    ["ID"]=>
    int(1455)
    ["post_author"]=>
    string(1) "1"
    ["post_date"]=>
    string(19) "2014-01-12 09:00:48"
    ["post_date_gmt"]=>
    string(19) "2014-01-12 08:00:48"
    ["post_content"]=>
    string(588) "


Year > 2014  Description > Video installation for SaphirKeramik presentation at Salone del Mobile Laufen booth


"
    ["post_title"]=>
    string(40) "SaphirKeramik  |  Salone del Mobile 2014"
    ["post_excerpt"]=>
    string(0) ""
    ["post_status"]=>
    string(7) "publish"
    ["comment_status"]=>
    string(6) "closed"
    ["ping_status"]=>
    string(4) "open"
    ["post_password"]=>
    string(0) ""
    ["post_name"]=>
    string(13) "saphirkeramik"
    ["to_ping"]=>
    string(0) ""
    ["pinged"]=>
    string(0) ""
    ["post_modified"]=>
    string(19) "2017-05-03 09:24:29"
    ["post_modified_gmt"]=>
    string(19) "2017-05-03 07:24:29"
    ["post_content_filtered"]=>
    string(0) ""
    ["post_parent"]=>
    int(0)
    ["guid"]=>
    string(30) "http://toan-nguyen.com/?p=1455"
    ["menu_order"]=>
    int(0)
    ["post_type"]=>
    string(4) "post"
    ["post_mime_type"]=>
    string(0) ""
    ["comment_count"]=>
    string(1) "0"
    ["filter"]=>
    string(3) "raw"
  }
  [7]=>
  object(WP_Post)#3666 (24) {
    ["ID"]=>
    int(4240)
    ["post_author"]=>
    string(1) "1"
    ["post_date"]=>
    string(19) "2016-01-06 15:45:07"
    ["post_date_gmt"]=>
    string(19) "2016-01-06 14:45:07"
    ["post_content"]=>
    string(1121) "




Year > 2016  Description > Electronic shower toilet seat  Project Assistants > Alberto Pasquale




"
    ["post_title"]=>
    string(4) "Dyna"
    ["post_excerpt"]=>
    string(0) ""
    ["post_status"]=>
    string(7) "publish"
    ["comment_status"]=>
    string(6) "closed"
    ["ping_status"]=>
    string(4) "open"
    ["post_password"]=>
    string(0) ""
    ["post_name"]=>
    string(4) "dyna"
    ["to_ping"]=>
    string(0) ""
    ["pinged"]=>
    string(0) ""
    ["post_modified"]=>
    string(19) "2018-10-05 13:13:17"
    ["post_modified_gmt"]=>
    string(19) "2018-10-05 11:13:17"
    ["post_content_filtered"]=>
    string(0) ""
    ["post_parent"]=>
    int(0)
    ["guid"]=>
    string(30) "http://toan-nguyen.com/?p=4240"
    ["menu_order"]=>
    int(0)
    ["post_type"]=>
    string(4) "post"
    ["post_mime_type"]=>
    string(0) ""
    ["comment_count"]=>
    string(1) "0"
    ["filter"]=>
    string(3) "raw"
  }
}